About Dr. Fornefeld
Eye Doctor Bloomington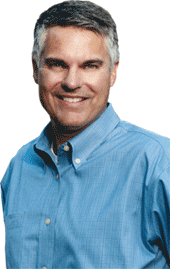 Dr. Matthew Fornefeld has been involved with the leading edge of vision correction technology for 20 years. He brings an attention to detail that is part of his personality as an engineer (he was a 1981 graduate of the school of Chemical Engineering at Purdue).
As the first physician in South Central Indiana to perform radial keratotomy and laser vision correction procedures, Dr. Fornefeld has seen the technology development from the beginning. Dr. Fornefeld is therefore in a unique position to evaluate what will work best as you explore surgical vision correction options.
Dr. Fornefeld is also involved in alternative technologies that are not laser-based. He was the first doctor in Indiana to implant the Visian ICL, a lens that is implanted in the eyes of patients who are not good candidates for LASIK.
Lens implant technology in cataract surgery is changing rapidly, and Dr. Fornefeld has been at the forefront as an early user of today's most advanced lens implants. He uses the Stellaris surgical system, which allows for ultra-small 1.8 mm incisions, in cataract and lens surgery.
Beyond the technical expertise, Dr. Fornefeld understands what you are looking for when you inquire about vision correction. Having performed thousands of procedures on patients of all ages, he and his staff understand the anxieties and emotions that patients experience through this process. He and the staff at Clariti are uniquely qualified to make your experience a comfortable and smooth one, regardless of the procedure.
Quick Facts:
Born and raised in Indianapolis
Bachelor of Science in Chemical Engineering from Purdue University in 1981
Graduated from Indiana University School of Medicine in 1985
A member of the medical staff of Bloomington Hospital since 1989, specializing in refractive surgery
The first physician in South Central Indiana to perform Radial Keratotomy in 1992
The first physician in South Central Indiana to perform laser vision correction in 1995
First physician In Indiana to implant the Visian ICL in 2006
Has served on the Board of Trustees for Lighthouse Christian Academy in Bloomington
Very proud of his spouse of 20 years and three daughters
Hobbies include building scale model airplanes and competitive flying