iLASIK
Bloomington iLASIK
iLASIK is a state-of-the-art laser vision correction procedure that allows glasses and contact wearers to see clearly like never before! iLASIK combines the wavefront analysis and map technology with the blade-free femtosecond laser technology to create the safest and most reliable laser vision correction procedures.
iLASIK makes it possible for the laser treatment to be completely customized to the unique characteristics of your eyes so that you will receive a superior quality of vision.
The iLASIK procedure
iLASIK uses a Wavescan 3D map to create a "fingerprint" of your cornea. This allows Dr. Fornefeld to determine the unique characteristics and imperfections that need to be corrected and creates a precise treatment plan to follow during the procedure. Next, the Intralase laser, a computer-guided laser, is used to create a thin corneal flap. The CustomVue technology then allows for the precise vision correction to be mapped out on your eye. This technology ensures that even if your eye moves during the procedure your treatment will remain specific and precise.
iLASIK is one of the safest and most trusted forms of vision correction. NASA has approved the iLASIK procedure for its astronauts and the US military has approved iLASIK for all personnel, including Air Force pilots.
Am I a Candidate for iLASIK?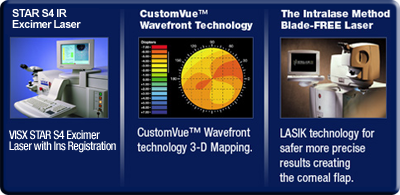 Although iLASIK has the ability to fix nearsightedness, farsightedness, and astigmatism, not everyone is a qualified candidate for iLASIK. Dr. Fornefeld will only perform iLASIK on qualified candidates. In order to be considered for iLASIK you must meet the following requirements:
Over the age of 18
Have a stable vision for at least two years
Be nearsighted, farsighted, or have astigmatism
Have no health issues that may affect the eyes
If you are interested in learning more about your iLASIK candidacy please take our LASIK self-evaluation test. If you feel that you meet these basic requirements please feel free to schedule an iLASIK evaluation with our office. During your appointment, you will receive a thorough evaluation to make sure you are a perfect candidate for iLASIK. If you do not qualify for LASIK, Dr. Fornefeld is happy to recommend an alternative option that is right for you.


How do I know if I am a candidate?

What you need to know about iLASIK

The majority of people who meet the age and general health requirements are candidates for iLASIK. You must be at least 18 years of age with a stable prescription for at least one year. You must also be in good general health with no existing eye disease.
What should I expect during my evaluation?
Contact lenses must be removed and not worn for two weeks prior to your exam and procedure. Please plan to be at Clariti for 2-3 hours on evaluation day as several preoperative measurements will be taken at this visit. Dr. Fornefeld will perform a complete examination of your eyes and go over your preoperative measurements in detail with you. After your evaluation with Dr. Fornefeld, you will meet with a technician who will schedule your procedure and review all pre and post-operative instructions.
How is iLASIK performed?
Upon arrival at Clariti, you will receive a mild sedative. Once in the procedure suite, the eyes are anesthetized with eye drops. iLASIK is performed in two steps. First, the corneal flap is made with the Intralase, bladeless technique. Second, the vision correction is completed with the VISX Excimer Laser using Advanced Custom Vue with Iris Registration. After the vision correction, the flap is placed back in position. Postoperative recovery at Clariti is approximately 20 minutes. Dr. Fornefeld will examine the flaps and review post-operative instructions upon your discharge.
How long does it take to perform the procedure?
Typically, you are in the procedure suite for less than twenty minutes. The actual procedure itself is only 1-2 minutes per eye. We ask patients to plan to be at Clariti approximately 2 hours on procedure day.
Is the procedure painful?
No. Topical anesthetic drops are used to numb the eyes as well as the eyelids. You may experience a sensation of pressure during the procedure.
Will both eyes be done at the same time?
Yes. The procedure is completed for both eyes on the same day.
How soon may I return to normal activities after iLASIK?
Most patients resume regular activities the day following their procedure. Protective eyewear is always recommended for sports activities and certain workplace environments.
How long will the results last?
The results are generally permanent. The eyes will go through the natural changes that occur with age. These changes include presbyopia and cataracts.
Does insurance cover iLASIK?
iLASIK is considered an elective procedure. Insurance does not typically cover this type of procedure. It is best for you to check with your insurance company for specific information regarding your benefits.
Is financing available?
Clariti offers 0% financing for 12 or 18 months. Extended payment plans are available with interest rates that apply up to 48 months.